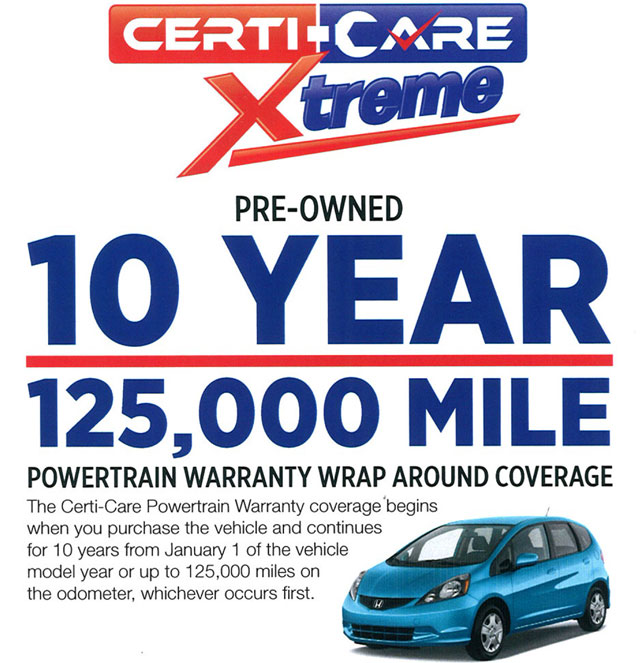 24-HOUR ROADSIDE ASSISTANCE
Benefits include Towing up to $150 and up to $50 towards any of the following:
Battery Jump Start
Flat Tire Change
Fuel Delivery
Lockout Service
EMERGENCY TRIP INTERRUPTION
If your vehicle breaks down due to a covered component, you will be reimbursed for food, lodging, and airfare up to $75 per day with a maximum of $225 per occurrence.
CERTI-CARE XTREME VEHICLE PROTECTION
Give yourself peace of mind with the Certi-Care Xtreme vehicle protection plan. We will pay or reimburse you for reasonable cost to repair or replace any breakdown or all parts including, but not limited to:
Brakes: Master Cylinder, Power Brake Cylinder, Brake Caliper, Brake Lines, Some ABS parts...
Electrical: Alternator, Voltage Regulator, Starter, Engine Compartment Wiring Harness, Ignition Switch, O2 Sensors...
Air Conditioning: Condenser, Compressor, Clutch and Pulley, Evaporator, Lines and Hoses...
Front/Rear Suspension: Control Arms, Mounts & Bushings, Struts, Leaf Springs...
Enhanced Electrical: Distributor, Ignition Coil, Cruise Control, Power Seats, Convertible Motor...
Fuel Delivery System: Fuel Injection Pump and Injectors, Vacuum Pump, Fuel Tank, Metal Fuel Lines...
Cooling Components: Engine Cooling Fan and Motor, Fan Clutch, Belt Tensioner, Radiator, Thermostat...
Steering: Steering Box, Rack & Pinion, Power Steering.
Does not cover Engine, Turbocharger/Supercharger, Transmission, Transfer Case, Drive Axle Component, and those items listed in the Exclusions section of the Huntington Honda Certi-Care Xtreme Powertrain Warranty.
CARFAX® VEHICLE HISTORY REPORT
Every Certi-Care Pre-Owned Vehicle comes with a free CARFAX® Vehicle History Report. Since its inception in 1986, CARFAX® has built a database of more than 7-billion records that document whether a vehicle is a lemon buyback, has been salvaged, damaged by flood, used as a taxi or rental car, has its odometer rolled back, as well as other pertinent facts that may affect the vehicle's safety and value.